Medusas

MEDUSAS
MULTIPLYING FEMALE ROLES, MULTIPLYING SEA CREATURES
medium : installation & photography
exhibition: Shanghai Museum of Art, China
·
2008 - Another Voice, We...

curator : Xiao Xiao Lan



"Medusas" is a show in two parts. The first section is a series of portraits of women. The second section is an installation of Medusa, the jellyfish, a sea creature often associated with feminity at its most exacerbating.

Part 1 : Eight series of triptychs - portraits of eight women caught in classical psychological expressions. Fear, ecstasy, suffering, contentment etc. Diana Lui chooses her models from different countries (France, China, Malaysia etc.) to show how in different cultures women reveal themselves. Beneath each woman's portrait is a banal word used in daily life everywhere that denotes her status which in this context is both evocative and scathing: Bitch, Mother, Housewife, Career Woman, Prostitute, Over Sensitive, etc. Whether these words correspond to a social reality, to a male phantasm or to an image adopted by women themselves, these names reflect the manifold roles that women assume in the course of their lives.









Part 2 : White medusas overrun the ceiling. Their long tentacles brush the spectators, bringing to mind their infinite power of reproduction and their invasive progress. At the same time, these supple and nonchalant forms are full of grace and seduction compared to the aggravating emotions aroused in the adjacent room.

In her installation, Diana Lui plays visually on the ambiguity of "attraction and repulsion", an ambiguity entrenched in the myth of Woman in almost all societies through the ages.

To overcome the difficulty of exisiting in an unconvivial environment, Woman and Medusa react alike... they expose themselves and they multiply. For that, Woman like the Medusa does not escape an oppressive image of herself. At the same time, their modes of existence are the guarantee of the world to come which never ceases to transform itself and to multiply, a manner that could not be more reassuring.

« Medusas » reminds us that we belong to this world and that our actions contribute to the transformations of the planet and of Humanity itself.

- Bérénice Angremy, independent art critic, curator and director of Thinking Hands Art Consultancy, Beijing, China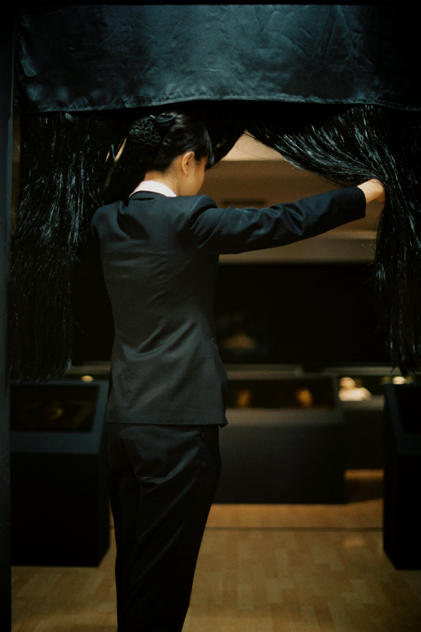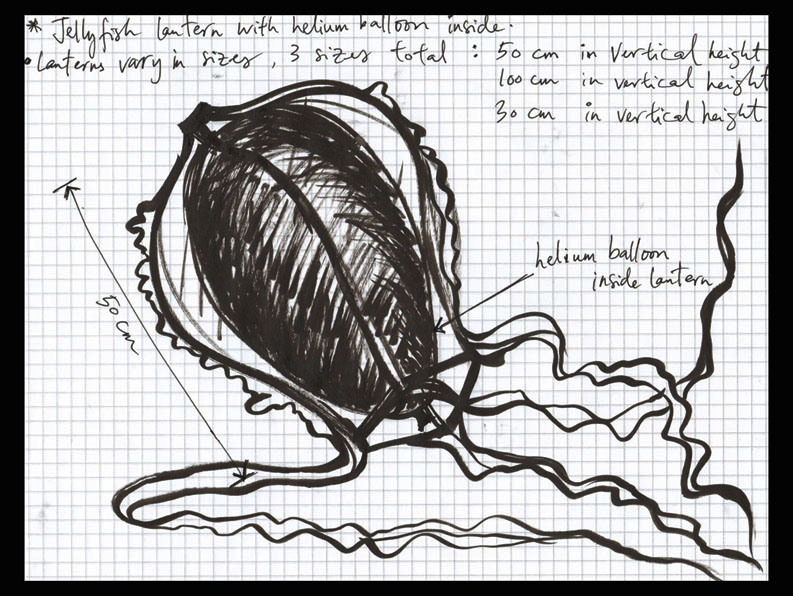 "Medusas" se compose de deux parties, l'une autour de photographies de femmes, l'autre autour d'une installation de méduses, créatures des mers à la féminité exacerbée.

Première partie: Huit portraits de femmes de différentes cultures en séries de tryptiques, saisies dans des attitudes psychologiques « classiques » telles que la peur, l'extase, la souffrance, le contentement etc. Sous chaque femme, un mot banal dans notre univers quotidien, qui devient dans ce contexte évocateur et cinglant : « bitch », « mother », « housewife », « career woman », « prostitute », « over-sensitive » etc. Qu'ils correspondent à une réalité sociale, à un fantasme masculin ou à un désir assumé de la femme elle-même, ces noms révêlent la profusion des rôles que doivent assurer les femmes dans leur parcours social.

Deuxième partie: Des méduses blanches envahissent le plafond, frôlent le spectateur de leurs longues tentacules, évoquant leur infini pouvoir de multiplication et leur envahissante progression. En même temps, ces formes souples et nonchalentes sont pleines de séduction, de légèreté même comparée aux émotions exacerbées de la première partie.
"Dans son installation Diana Lui joue visuellement sur l'ambiguité « attirance et répulsion », qui fait partie du mythe de la femme dans presque toutes les sociétés depuis les temps les plus anciens.
Pour surmonter la difficulté d'exister dans un environnement peu convivial, la femme et la méduse pareillement agissent, s'exposent, se multiplient. Pour cela, la femme comme la méduse n'échappe pas à diffuser une image quelque peu opressante d'elle même. Parallèlement, leurs modes d'existence sont la garantie qu'un monde à venir, qui ne cesse de se transformer et de se multiplier, est bien là, ce qui est pour le moins rassurant.
Medusas nous rappelle aussi que nous faisons partie de ce monde, que nos actions participent aux transformations de la planète et de l'humanité."

– Bérénice Angremy, critique d'art indépendente, commissaire et directrice de Thinking Hands Art Consultancy, Pékin, Chine


© Copyright Diana Lui 2021-2022. All rights reserved.
Unless otherwise indicated, all materials on these pages are copyrighted. No part of these pages, either text, images or videos may be used for any purpose other than personal use, unless explicit authorization is given by Diana Lui. Therefore reproduction, modification, storage in a retrieval system or retransmission, in any form or by any means – electronic, mechanical or otherwise, for reasons other than personal use, is strictly prohibited without prior written permission.