Les Étoiles de Diana 1

Quarry of the Barthe brickyard in Gratens near Toulouse, Haute-Garonne region
LES ÉTOILES DE DIANA · 1
DIANA'S STARS
medium: large format analog photography, 8x10 inch view camera, digital images & installation

exhibitions:
Musée Paul Dupuy, Toulouse, France – Les Etoiles de Diana (Diana's Stars) - group exhibition from a photography & science residence, Résidence 1+2 Toulouse · 2017

Museum of Contemporary Art Les Abattoirs, Toulouse, France – Les Etoiles de Diana - exhibition from a photography & science residence, Résidence 1+2, bilingual

catalogue

under the same title, 80 pages, edited by Editions Filigranes, Paris · 2016


curator and artistic director: Philippe Guionie for

Résidence 1+2



I left my native country, Malaysia, at the age of fourteen and for more than thirty years, I've been travelling the world in search of my identity and origins. For this reason, the theme of uprootedness is central to my artistic creation. I am part of a hybrid generation for whom the attachment to a geographical location is no longer important. This is the consequence of a turbulent, nomadic life. I've become receptive to the specific features of peoples, cultures, political and economic systems, climates, foods, languages and even more subtle things like ways of thinking, hopes and hopelessness, fears, dreams and so on. Becoming an artist means being an archaeologist, an explorer and a psychologist all at once.

'Where am I?' and 'Who am I?', two recurring questions raised by humankind in its obsessional desire to know the origins of its existence. The people of Toulouse are part of the alchemists and investigators who have been attempting since the Middle Ages to decipher the mystery of the sky and the four elements: Earth, Water, Air and Fire. From the first day, I felt a telluric energy emanating from the pebbles and clay bricks of this fascinating city, at once anchored in the earth and permanently looking towards the sky. This was my very first photographic residency in France and my eighteen years in this country had simply not prepared me for this encounter with such a powerful city.


·

·



Légende de l'image ci-dessus :



Carrière de la briqueterie Barthe à Gratens, département de la Haute-Garonne.




Tuiliers-briquetiers de père en fils depuis 1772, la famille Barthe perpétue la fabrication ancestrale de carreaux en terre cuite. La carrière tolosane, façonnée par les rivières en crue, apparaît comme un livre ouvert chargé des péripéties d'une longue histoire géologique. Chaque couche recèle une part de ce message sédimentaire du passé. Extraites une à une de leur gisement, les trente variétés de terre sont classées, disposées en tas puis travaillées avant leur mise au four. Utilisée sous forme de blocs en terre crue, en terre à piser, en terre à torchis ou adobe, la terre reste un matériau indémodable.






Toulousaine #1
· Violinist from the National Orchestra of the Capitol of Toulouse, of

Vietnamese and Limousin origins
·
Quarry of the Barthe brickyard in Gratens near Toulouse, Haute-Garonne region
· Costume : the top is a jacket by Callot Soeurs (summer 1912), a Parisian haute couture house, inspired
by a man's jacket from the Louis XVI period and containing elements characteristic of the creations of
this house such as the use of lace and ribbons on the sleeves. The hat dates from the same period around 1912,
a creation of Novalis, a milliner from Toulouse who ran a store at 23, rue Alsace-Lorraine ✦ Collection Jean-Pierre Daraux

Toulousaine #2
· Professional make up artist of Mexican origin
· Couvent des Jacobins, Toulouse
· Costume : jacket, skirt, petticoat, apron and head handkerchief in wool and cotton, 20th century.
This costume was created from old models for the Ballets Occitans. Founded in 1962 by Françoise Dague, this troupe
of dancers and musicians embodies the revival of folklorism in the 1960s. Relying on a body of knowledge
accumulated on popular arts and traditions, the Ballets Occitans help to transmit the memory of this heritage.
✦ Collection Musée Paul Dupuy





Toulousaine #7

· Second year student in psychology at the University Jean Jaurès, of Italian, French and Algerian origins

· La Chapelle Saint-Antonin, Couvent des Jacobins, Toulouse

· Costume for the character of an extra in the film Les Chants de Mandrin by Rabah Ameur-Zaïmeche in 2011,
created by Christiane Vervandier. Costume details: a brown quilted skirt, a white apron, a white whale stay
with beige and blue checkers, a checkered dress top, a blue scarf, a white charlotte ✦ Collection Cinémathèque de Toulouse






My daily pilgrimage in the historical centre of Toulouse begins with a cup of coffee in the Garden of antiquities of the Musée Saint-Raymond. Surrounded by olive trees, Acanthus plants, grapevines, palm trees and Mediterranean flowers, I find myself transported back to the Roman era. A play of shade and light prints a lace-like pattern on my hands and my personal diary. Hypnotised by the mysterious dance of leaves rippled by the wind, I walk towards the crypt of the basilique Saint-Sernin, one of my favourite places in Toulouse. In the vaulted crypt I am filled with silence and calm as if immersed in water and meditate for several minutes until a feeling of tranquil strength takes hold of me. Some faiths claim that this is a powerful geo-biological site with a cosmo-telluric chimney that generates energy.

I like to wander and lose myself in the open-air markets in Toulouse. Markets are the heartbeats of a city. The clamour of sellers of fruits and vegetables, meats and pork-cuts, breads and pastries, the strident sounds of bargaining, bursts of laughter, the clinking of wineglasses on terraces, the delicious smells tickling my nostrils, confirm my opinion that Toulouse is a city of pleasure and gourmet cuisine. People of all race, colour and creed parade by in a colourful, lively pageant. Since the very first day, my photographer's eye has filed away hundreds of portraits. It is a true feast for my hungry eyes, forever alert to the many possible lives on this Earth.





Toulousaine #5
· Copywriter and photographer of English, Dutch, Czech and German origins
· Terre de Pastel, Labège near Toulouse ✢ accessories : spools of thread, curtains and tablecloth dyed in pastel blue

· Costume : jacket, skirt, petticoat and apron in wool and cotton, 20th century. This costume was created
from old models for the Ballets Occitans. Founded in 1962 by Françoise Dague, this troupe of dancers
and musicians embodies the revival of folklorism in the 1960s. Relying on a body of knowledge accumulated
on popular arts and traditions, the Ballets Occitans help to transmit the memory of this heritage ✦ Collection Musée Paul Dupuy




Toulousaine #10

· Technical secretary for low-income housing from Toulouse

· The small cloister of Musée des Augustins, Toulouse

· Costume of the Toulouse bourgeoisie towards the end of the 19th century.
✢ coffo canelada - Toulouse headdress, three rows of piped lace, decorated with a flat knot on the back of the neck
✢ cos - dress: cotton brocade fabric, engageantes (false sleeves) : white sleeve ends in lace ✢ white baptist shawl,
pleated around the neck, double point embroidery on the back, fixed on the dress with a brooch ✢ davantal - striped
colored taffeta apron ✢ black stockings and black shoes ✢ black crocheted gloves in thread ✢ cadenos - necklaces
or sautoirs, gold cross on velvet ribbon ✢ black silk purse, embroidered with jet stone beads ✢ clabie - chatelaine,
suspended from the waist, 4 chains: metal mesh purse, ballroom notebook, needle case, photo medallion
✦ Collection Le Poutou* de Toulouse
*kiss in Occitan language





In the neighbourhood of Matabiau where I live, women 'set up shop' on the corners of the streets or stroll around in the evening after 5 pm. One woman in particular catches my eye. She is always sitting on a queen's throne before her door, in a white fur coat that has yellowed over time. Come rain or wind she remains at her post, faithful to her profession. Her make-up is always the same, like a sad clown's in its exaggerated overflowing lines and colours, and her expression likewise with a slight lifting of the eyebrows, half waiting, and half beseeching. I am deeply moved by her. There is nobility in her silent posture, commanding that she be seen with a mix of curiosity, admiration and compassion. I had imagined several shooting sessions with her but in fact our first encounter never presented itself. The traces of her existence will soon be forgotten as the neighbourhood undergoes its current and future urban mutation.

From Jolimont Hill, the sunset looks like a mirage. Perched over one of the rooftops of the Observatory, I savour each moment of this panoramic vista of the city bathed in burnt sienna red, becoming more intense at the end of the day against the blue sky. Akin to Saint-Exupery's little Prince, I feel like I have landed on a planet built of the dreams and ambitions of its inhabitants. Everything seems to be a carefully constructed illusion, yet the illusion is strikingly real.





Toulousaine #6
· History student and writer of Parisian and Algerian origins
· Musée Paul Dupuy, Toulouse ✢ accessories : armillary sphere, wood and printed paper, 1st half of the 19th century
· Costume for the character of Gabrielle de Polignac played by Virginie Ledoyen in Farewell to the Queen directed by Benoît Jacquot in 2012,
created by Christian Gasc, famous French costume designer for cinema, theater and opera from Tarn-et-Garonne.
Details of the costume: a white petticoat, a green silk satin basket dress, a green silk taffeta underskirt embroidered with gold thread.
✦ Collection Cinémathèque de Toulouse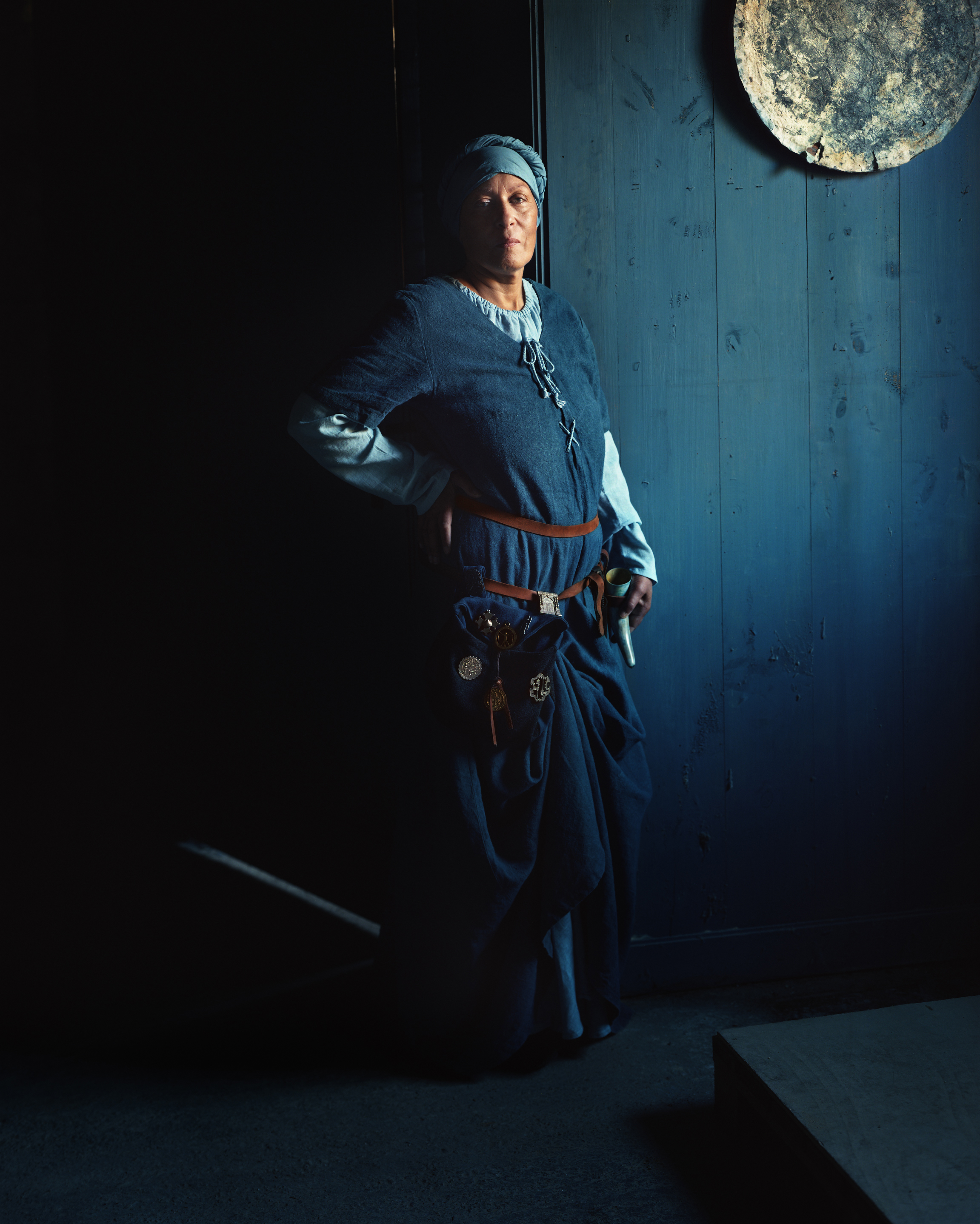 Toulousaine #3
· Blue pastel master dyer of Belgium and American origins
· Bleus de Pastel de Lectoure, the pastel dyeing workshop, a former tannery in Lectoure in the Gers
· Costume and accessories : linen set tinted in two shades of blue from the pastel plant, cow horn, leather belt. This costume
is inspired by the 13th, 14th and 15th century, the Golden Age of pastel. It represents a dyer, whose accessories around the waist
allows her to have everything she needs to either defend herself or to eat with (the horn). The medals on the purse celebrate
several Feasts of the King of the Birds in Puy-en-Velay ✦ Collection Bleus de Pastel de Lectoure

THE REVELATION OF PASTEL BLUE

My first encounter with Toulouse took the form of a colour stemming from the alchemy of a medicinal plant named Isatis Tinctoria: pastel blue. Blue was never an essential colour in my artistic practice but I started to take notice of it three years ago during my artist residencies in Tunisia and Malaysia. The indigo blue of these hot countries turned up in their traditional textiles, evoking the celestial energy of the sky and water. In Toulouse, blue has definitively become part of my creation. This alchemical greyish blue, which takes on different shades according to the atmosphere, the pollution, the humidity, the medium or the dyer's mood, is a 'lively' blue that is difficult to master. It's the blue of the northern countries, different from indigo blue, its rival from the South. A greyish blue whose range of tones goes from a nascent blue (almost white) to the black mysterious blue of the ocean's depths. According to Louis XIV's venerable minister Colbert, thirteen shades of blue can be obtained from this medicinal and tinctorial plant. The culture of the Occitan pastel reached its peak in the 16th century, when blue had become a luxury item. Many private mansions in what is now the historical centre of Toulouse attest to the fortunes accumulated by the merchant families of that era. But today there are only a few dyers in Occitania perpetuating the ancestral alchemical technique.

I wanted to create a dialogue between the pastel blue and the warm tonalities of the bricks and the earth. A rich palette of blues and reds have thus brought colour to a large number of my portraits of Toulouse women. Through traditional or imaginary costumes inspired by the city's history, most of which come from the collections of local museums and public institutions, each woman intensely expresses her Toulouse identity, whether acquired by birth or adoption. I chose to represent this unity, at once personified and symbolic, on historical sites like the Basilica of St. Sernin, the convent of the Jacobins, the Musée des Augustins, the Carmelite chapel, the Musée Paul Dupuy, the Jolimont Observatory or the Piste des Géants (Giants' Runway) aerospace complex in the suburb of Montaudran. By photographing these women of all ages and backgrounds, I'm exploring the place of cultural heritages in contemporary society, that of individuals between their past and their present, and in particular, the identity of today's women, for the hybrid identity of the 21st century has long been one of my obsessional subjects.

(all texts are taken from the bilingual book Les Etoiles de Diana / Diana's Stars, published by Editions Filigranes & Résidence 1+2, Toulouse, 2016)






Toulousaine #4
· Parisian teacher, consultant and cultural mediator for the image and cinema
· The reserve of the Paul-Dupuy museum, Toulouse
· Costume : blue penitent's tunic, linen canvas, 18th - 19th century
The brotherhood of the Blue Penitents allowed the laity to live their faith through prayer and charity and created solidarity
among its members. The long, hooded tunic that hides the whole body expresses the penitent's humility while
ensuring his anonymity for deeds from which he is not to derive any glory here on Earth. The old chapel of the
Blue Penitents, which has become the Saint-Jérôme church, still exists on rue du Lieutenant-Colonel Pélissier in Toulouse. ✦ Collection Musée Paul Dupuy

Toulousaine #9
· Swiss Brazilian dancer and choreographer
· Perry building, place Esquirol, Toulouse
· Costume for the character of Tina Lombardi played by Marion Cotillard in A Very Long Engagement directed by Jean-Pierre Jeunet in 2004, created by Madeleine Fontaine. Costume details: a black skirt, a black transparent bodice, a black coat with removable pockets and stole with belt, two pieces of black lace, a black hat with violet and bird hairpiece ✦ Collection Cinémathèque de Toulouse

Toulousaine #11
· Ivorian model and reiki practitioner
· La Piste des Géants, Montaudran district, Toulouse
· Costume : jacket, skirt, hat in embroidered silk satin and cotton, Paris 1991. Designer: Christian Lacroix (born in Arles, 1951)
This costume was created in 1991 at the request of Mrs. Mimette Drommelschlager, organizer of fashion shows in Toulouse in the 1990s. Inspired by the theme of Toulouse, the subject matter of the commission, the costume consists of a fitted jacket and a matching corolla skirt in black satin. The whole piece is entirely embroidered with a sprinkling of violets, flowers whose cultivation has long been a specialty of the city of Toulouse. ✦ Collection Musée Paul Dupuy

Toulousaine #8
· Rwandan model and social worker of Peul origin
· La chapelle des Carmélites, Toulouse
· Costume : bustier, skirt, ruff and pair of cuffs in satin, tulle and synthetic cabochon, Paris, 1992.
This dress was commissioned by Ms. Mimette Drommelschlager from designer Popy Moreni.
The Toulouse theme is inspired by the violet, the dress itself has become a flower. From a green bustier dotted with colored cabochons, the petals bloom at the level of the skirt in an explosion of colored tulles, ranging from yellow to purple. ✦ Collection Musée Paul Dupuy

"Diana Alice Léa" short film of the artists working on site during the art and science residence
Résidence 1+2 - Toulouse

#2016
©
Marjorie Calle
with Diana Lui, Alice Lévêque and Lea Patrix
MUSÉE LES ABATTOIRS, Toulouse, France, 2016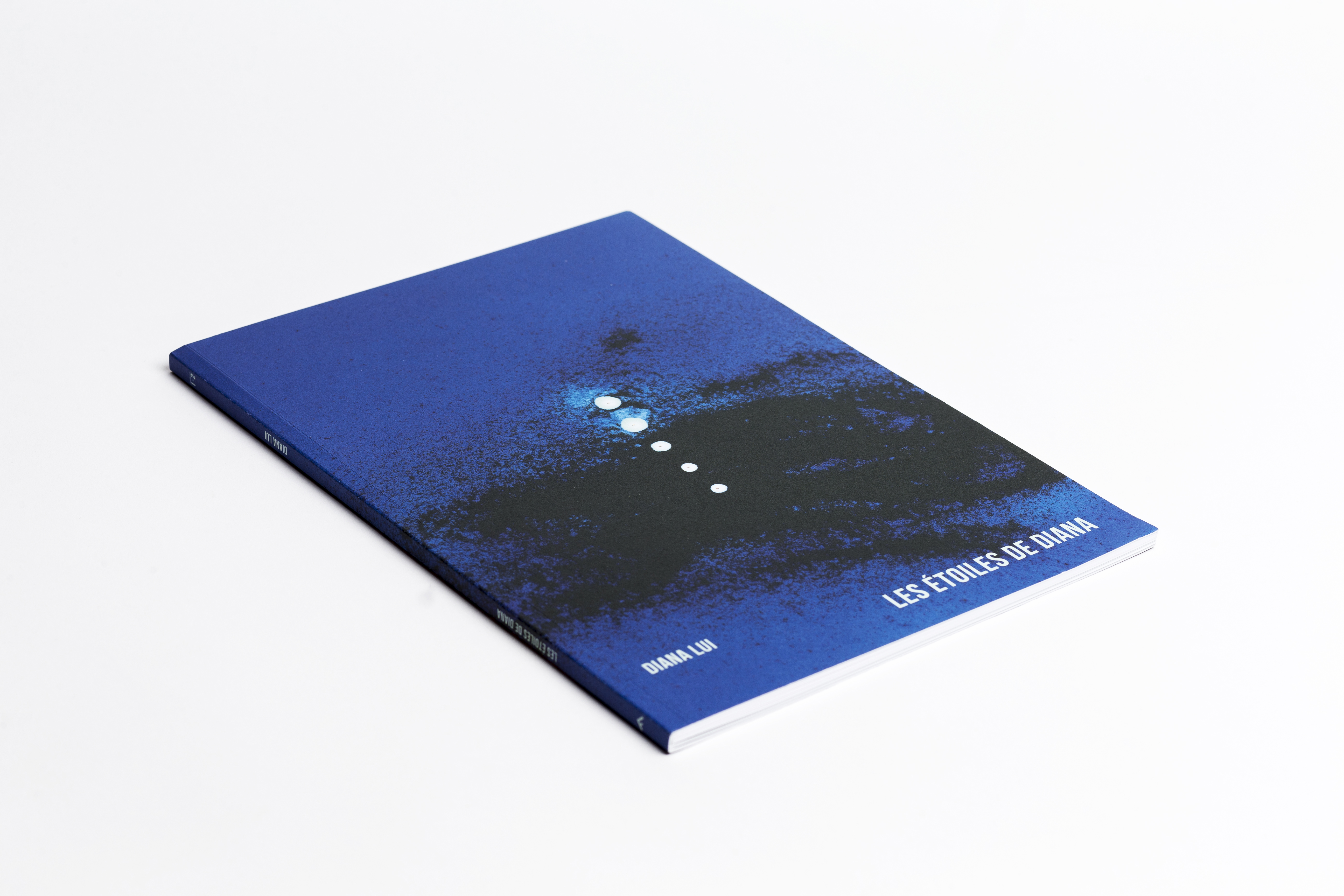 © Copyright Diana Lui 2021-2022. All rights reserved.
Unless otherwise indicated, all materials on these pages are copyrighted. No part of these pages, either text, images or videos may be used for any purpose other than personal use, unless explicit authorization is given by Diana Lui. Therefore reproduction, modification, storage in a retrieval system or retransmission, in any form or by any means – electronic, mechanical or otherwise, for reasons other than personal use, is strictly prohibited without prior written permission.